Promoting Collaboration between the NHS & Case Managers
Posted 21st February 2018
Two CMSUK Board Directors recently presented to the therapy team at St Georges Trauma Centre on the role of the Case manager and CMSUK 's role .
The presentation was well attended and covered the definition of Case management and a description of CMSUK as a charitable organisation set up to provide guidance on best practice and standards to guide practice of Case Managers. There was discussion on the current evolving focus of the educational pathway with a view to formally recognising competencies which will eventually provide a framework against which formal registration of Case Managers will be encouraged.
The presentation discussed that within the Personal Injury industry Case Managers are engaged in order to signpost and progress optimum rehabilitation. They are expected to work in the best interest of the client to mitigate the impact of the injuries which have been sustained as a result of the accident. That the Case Manager is considered to be an advocate for the client and does not work with the agenda of the litigating parties.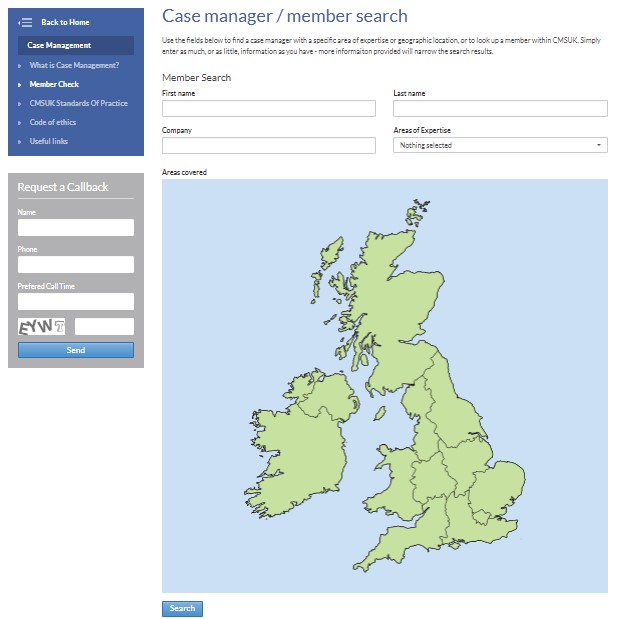 The presentation highlighted the role that CMSUK play to encourage all new practising Case Managers to register with them in order that they can obtain training in the processes and expected standards of practice . It was explained that if clinicians or clients have concerns about the relevant qualification of the Case Manager working with clients, CMSUK can be contacted to enquire if the Case Manager is CMSUK registered and reassured of their professional qualifications to fulfil such a role.
There was an overview presented on the origins of the Rehab Code and its intended purpose to promote early, collaborative focus on rehabilitation.
The audience were interactive asking questions regarding access to funding early in the process of rehab, especially with clients who were repatriated to settings lacking community resource, the benefits of the rehab prescription in evidencing rehab need and in the benefits of early working together between the NHS and Case Managers to progress the rehabilitation pathway for clients as seamlessly as possible.
The presentation was well received and the CMSUK Board intend to roll this out across more Trusts around the country to promote better understanding of each other's roles in order that we can all work more closely to progress the client's recovery as far as is possible.
To access the CMSUK Member Check Facility click here.