Helen Lawrie - Case Manager of the Year 2010
Posted 14th December 2010
We want to congratulate all our nominees for the Case Manager Award 2010. The finalists were Janice Okell from Harrison Associates, Susan Venables from Corpore and Helen Lawrie from Salus Case Management Services.
We are very pleased to have presented the award to Helen Lawrie. Read more about Helen.
Helen Lawrie
Salus Case Management Services
In my role as Case Manager at Salus Case Management Services I work with 3 main client groups, namely those employed at risk of absence, those absent from work and those unemployed seeking work. We use a bio-psycho-social approach, so look at all aspects of the person's life in order to support them with any issues that are affecting them perhaps in a negative way. Commissioned interventions include counselling, physiotherapy and Bowen Therapy (a complimentary therapy). We offer clients a variety of CBT-based self help materials for support with anxiety, pain, insomnia, relaxation, agoraphobia, depression etc and can provide access to free gym sessions, Stop Smoking classes, addiction interventions, specialist mental health support agencies, etc.
We have close links with a variety of external agencies to support clients with personal development, debt management, benefits advice, lifelong learning, caring responsibilities, domestic abuse etc.
I find my job very interesting and fulfilling - each day I work with clients who bring new challenges in terms of their issues and the specific support they require.
Academically I have a BSc(HONS) in Biological Sciences, an MSc in Health Promotion and I am a qualified Life Coach. My career background is primarily working in the addictions field in a variety of roles including Harm Reduction Team Worker, Volunteer Alcohol Counsellor, Drug Misuse Officer, Drug and Alcohol Group Facilitator. I have also worked as a Respiratory Lab Technician, an Orthopaedic Research Assistant, and was the Development Worker for the Haemophilia Society in Scotland.
I have been working as a Case Manager for the past 4 years - the last 2 of those with Salus and I feel absolutely delighted and honoured to have won the CMSUK Case Manager of the Year Award 2010. It means a lot to me because I am proud to be part of CMSUK and am aware of the diverse and valuable work being done by my fellow Case Managers across the UK.
Being a CMSUK member has given me the opportunity to develop my knowledge base and I think it is important to be part of an organisation which sets standards for case management and strives towards continual professional development .I have enjoyed networking with other CMSUK members over the last 2 years and look forward to building further working links in 2011!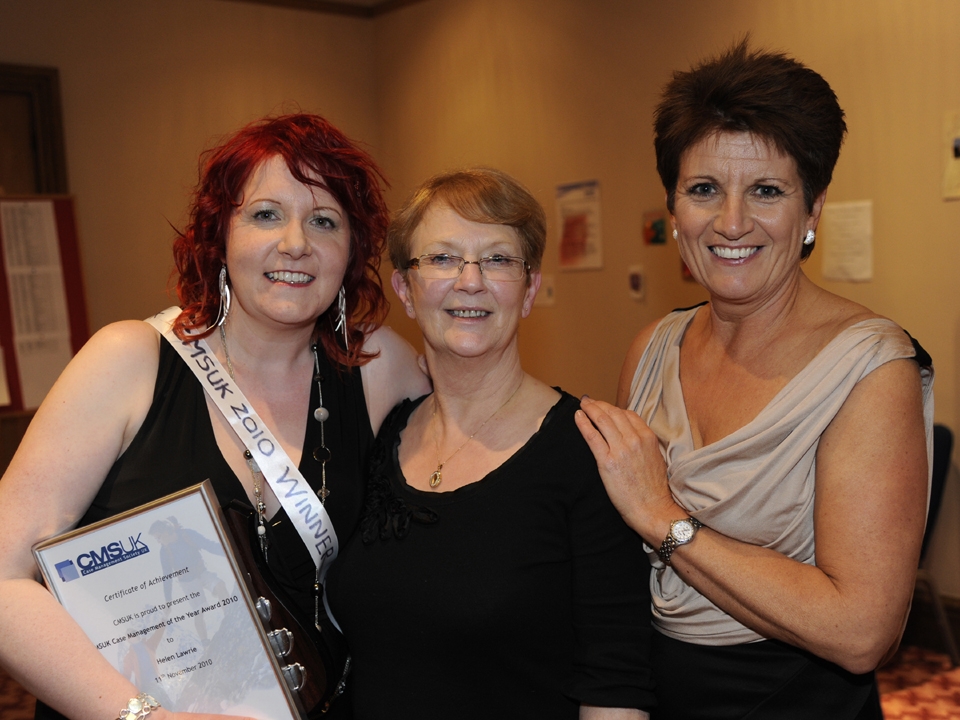 Helen Lawrie with Carole Chantler, and finalist Janice Okell (centre). Our other finalist, Sue Venables was unable to attend due to illness.
images/Helen Lawrie pic 4.JPG