Adam Shelverton - CMSUK are delighted to announce their new Board Chair
Posted 26th January 2017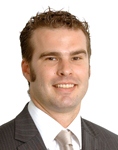 Adam Shelverton new Chair of CMSUK
After over 5 years as Chair of CMSUK Sam Harris has stood down to concentrate on developing other areas of CMSUK and will continue to work on the Education Pathway Committee. The Board would like to thank Sam for her hard work and long service as Chair.
Adam has been on the CMSUK board for 4 years and has sat on both the Communications committee and the Events committee. Adam has worked as part of the Rehabilitation team at QBE for over 7 years and has a clinical background as a Physiotherapist.
"I hope to continue to drive the good work CMSUK has done and continues to do. Striving for professional recognition is a key focus and I am keen to help CMSUK committee's progress this as much as possible. It will be a long journey, but ultimately, I think this is what CMSUK members, supporters and the wider industry needs and requires to continue to grow and positively evolve.
CMSUK was founded to promote professionalism in Case Management and to offer guidance and education to its members and supporters. This in turn, supports the charitable status ethos to enhance public wellbeing. The CMSUK Board 's aims and objectives are in place to ensure we continue to meet requirements and expectations. We will be conducting a survey in 2017 to provide our members with the opportunity to give their views and suggestions to help shape CMSUK's future.
Lastly, I want to thank the CMSUK board members and volunteers for their continued work. We are a dynamic, proactive board and accomplish a lot. I am keen for greater communication to our membership in that regard to demonstrate their membership fees go a long way, and are responsibly used."
Adam Shelverton
CMSUK Chair